Seamless team collaboration at home
is possible with the internet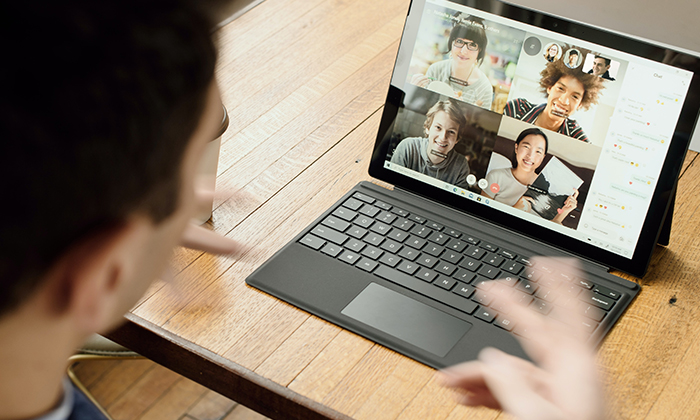 Many people believe that working from home is not only a good opportunity to save cost and reduce time wasted on commuting to work, but it also allows workers to enjoy a more flexible working hour where you can wake up a bit late or take a break whenever you feel like it. However, working from home means you are working separately from your co-workers and miss the opportunity to see each other face to face. Being away from each other for such a long time can cause miscommunication, unresolved emotions, overdue stress, and overall decrease in productivity. In order to keep the team in focus and connected during the work from home phenomenon, here are some online platforms that can help you work better with the team and enjoy each other's company as if you were sitting next to each other.

Organize online meetings regularly
One of the biggest problems in working from home is reduced communication between team members causing miscommunication and misunderstanding. If your team is facing this problem, it's recommended to find a time for regular online meetings to give opportunities for the team to exchange ideas, discuss a task, and ask questions. Common platforms used for online meetings include Vroom, Zoom, and Hangout. Meetings can be set up once a week or as frequent as twice a day, in the morning and at the end of the day, depending on your team. As for the agenda of the meeting, you can ask each team member to talk about what they plan to do over the week or have already completed, or raise any issues they are facing to get help. By doing this, the team will feel less alone and would know that there will be someone to support them.
Work online as if you were sitting next to each other
If working alone at home makes you or your team members have less focus, you can invite them to work online together via an online platform. Both you and your team can quickly jump into discussion, or talk to each other during break time. For this to happen, we recommend using Discord, a popular online platform among gamers, where you can both chat and join voice chat easily and quickly. The platform gives you the option to create Talk Channels and Voice Channels specific to your needs. You can create a general chat room, special voice meeting room, or a lounge room for relaxation. Sharing the screen or turning on the music for everyone in the room to enjoy is also available. The Discord platform can be downloaded on both mobile phone and notebook.
Play games or join activities online together
Usually, games or activities are used for strengthening relationships in the team. It is still possible to hold these types of activities using the internet. An easy game you can play is Question and Answers, which is similar to answering questions in the Miss Universe competition. To set it up, the moderator will collect questions from all the team members, then each team member takes turns answering questions from others. This game is easy to organize and doesn't require any special equipment, but it will definitely help sharpen your aptitude and general knowledge. Or, you can try organizing a baking or drink mixing activity (read more at Mocktail & Drink Recipes You Can Find on the Internet), which will require some equipment. You can ask all the team members to vote on an activity they would like to do, then ask each of them to prepare their equipment and ingredients for the activity. The moderator needs to facilitate the event by explaining each step slowly, while others follow through on their own. After everyone is finished, the moderator can ask each person to turn on their camera and show what they have done. Each person can take turns presenting the drinks they have made.

The activities and tools above can be part of your plan to promote the relationships within the team during a time when everyone must work from home. Having fast fiber internet that can support seamless video conferencing and other heavy internet activities can help you work more closely with your team. Set up the right internet speed for your work with TrueOnline internet packages here.