The Secret (Smart) Life of Pets
14 May 2019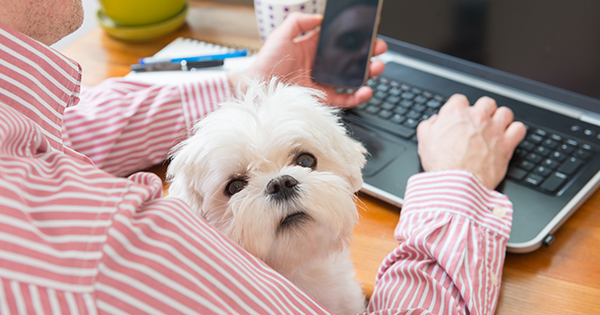 In the last article, we gave you tips on how to expand your internet signal with the WiFi booster. It is to make sure that you would get strong WiFi coverage no matter where you are at home. Now that you got WiFi covered, you can also take care of our four-legged friends while you're away from home. Who says the internet is only for humans? In this article, we would like to recommend some gadgets so that your fluff balls can benefit from WiFi as well.

Woof Woof! Hooman! Where are you? Come play with me!

Of course you cannot be with your furry best friends all the time. Sometimes work gets in the way and you have no other choice but to leave your friends at home all alone waiting endlessly for you to return. And your heart breaks every time you are about to walk out the door and see those sad eyes staring back at you. Well, that heartbreaking moment ends today because here is a new gadget that helps you have a "Paw-esome" time with your beloved pets even when you are away.

Meet Furbo Dog Camera, an innovation created especially for dog owners. It's a two-way pet camera that enables you to "see, talk and toss treats to your dog even when you're not home." You can also see what your dogs are up to and speak to them to stop your dog from biting off your furniture or knocking down a vase. Just plug in the gadget to the power source, install Furbo Dog Camera application on your mobile phone and connect to WiFi. Apart from helping you stay in touch with your pals at home, the app also sends real-time barking alerts. Anyone who has dogs at home knows that they don't bark for no reason. Maybe there's something wrong at home. With Furbo Dog Camera, you will get notifications so you can immediately check in on them. Now you don't have to worry about your fluffy friends feeling lonely or unsafe when you are away any longer.

Meow Meow! Hooman! Clean after me, please!

Now let's take care of our feline buddies as well, shall we? Any cat owners know the struggle of cleaning out the litter boxes. Sometimes you just don't have time and the smell is just unbearable. Oh well… things we do for love, right? However, we might have just found a way for you to put an end to all those problems and come home to see your cats clean and happy every day. Say hello to LavvieBot Automatic Litter Box that auto-cleans and auto-refills, so you and your cats can chill and live a scoop-free life. You will even get notified on litter and waste level as well as the time to empty waste drawer if you install PurrSong application on your mobile phone and connect with LavvieBot via WiFi. When the litter level is low, you can stock it up via the app at your fingertips with just one click. Moreover, this smart pet device also allows you to keep track of your cat's health at all times by monitoring the frequency and length that it uses the device.

Hooman! Where are you? Feed me! I'm hungry!

We have covered smart gadgets for pets' interaction and hygiene, now let's make sure that our lovely friends are not hungry or overfed as well. Any pet owners know how difficult it can be when it comes to feeding your cats or dogs. If your four-legged friends are already overweight, the first thing you should do is to reduce their food portion and snacks, right? It's not rocket science – duh! However, whenever you see those cute little eyes begging you to give more food, you cannot resist them and end up feeding them anyway. And sometimes you have to be away from home which leaves you no other option but asking somebody else to feed them instead. Then, the next thing you realize is that you are on your way to your friends' or relatives' houses asking them a favor which can be a bit troublesome since come on... not everyone loves pets.

Well, let's end those problems today with Petnet SmartFeeder. The device will "personalize your pet's meals" and feeds your fur balls the right amount at the right time automatically. With this smart feeder, food will be dispensed on a schedule. If you pair the gadget with Petnet App on your mobile phone via WiFi, and complete your pet profile by entering your pet's breed(s), age, weight, and activity level, the app will match you with the best food choices and portion sizes, completely personalized for your pet. From there, you can automate, track feedings and even feed your pet from smartphone. So you have peace of mind knowing your pet will be fed, even if you're running late and away from home.

We hope this article will help pet owners find a better solution to live smartly with their pets with the help from these gadgets. So, you don't have to worry about your pets being lonely, hungry or unhealthy any longer. We are now living in the digital world. Let's make sure that everyone including our pets can benefit from technology.