No Distance is Too Great
on Valentine's Day with Internet
08 February 2019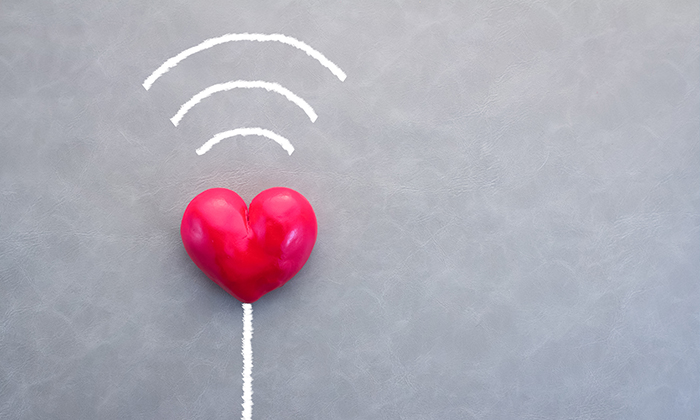 Millions of people know the internet, but only a few of them know that it was originally invented in the US Army for military communication by Dallasite computer scientist named Robert W. Taylor. Taylor was born in February—the month of love and a time for Valentine's Day. It seems like a coincidence that he was born on that month and destined to connect people together. In the early days, the internet operated in a modem system with the speed of only 56K—it was quite slow compared to today. Now the internet has expanded to have the bandwidth of 1 Gbps. It is more than enough to facilitate any communication amongst people no matter where they are in the world. Hence, love will no longer be obstructed by distance. The internet is indeed a miracle for all types of relationships e.g. families, friends and especially lovers on the opposite side of the world.
This Valentine's Day, TrueOnline would like to recommend websites and applications that will help you keep in touch with your loved ones and stay closer to each other in the month of love no matter the distance.

Keep your relationship strong and sweet everyday
The extra distance always gives love birds a hard time finding ways to spend time together. Good news is there're applications and websites specially designed to solve such problem. For example, the application Between, which can be used on both computer and smartphone, is easy to use. It features real-time chat, photo-sharing, and it can record the number of days they have been together as a couple. In addition, it is packed with cute features such as stickers for decoration, special story creation, and reminder of special days or events. You can also set password and sync the information via iCloud in order to save the important stuff. Now the app is also available in Thai version. Watch2gether website is another recommendation to close the gap between partners who are away from each other. If you want to watch a movie together, just go to this website, and voilà! You even can listen to music together or create a private chat on this website as if no one were away.

No one goes AWOL
If you live far away from your family members and friends, there're also programmes and applications that help you connect with them. You can make a voice or video call via Skype, Whatsapp, and Line. With high speed internet available, you can enhance your video calls to look better, sound better, and run more smoothly. If you're a stay at home mom, you may want to know that your children are safe at school; Life360 application could be your answer. It will tell you the location of your family members by GPS and notify you once your children arrive at school or the destination. Moreover, you can track your lost or stolen mobile phone with this app and create a group chat or private chat room with anyone who is in your Life360 circle.
These are just a few ways that the internet can strengthen the relationship between you and your loved ones no matter how far apart you are. Once human civilization moves to Mars, we may still be able to connect with Earth via the internet. SpaceX, led by its CEO Elon Musk, attempts to achieve this dream by launching satellites into the orbit. In 2017, the company launched the satellite into space for signal test. Next year Musk lightheartedly tweeted that he plans to launch a fully functioning satellite in 2019 in order to give WiFi access to people who will migrate from Earth to Mars in 2024 (according to his prediction). If going to Mars is no longer a wishful thinking, distance should no longer be an obstacle to relationships. Now, we shall hope that the password of the Wi-Fi is 'martian' just like what he posted on Twitter: "Don't tell anyone, but the Wi-Fi password is martian."